Dear Prayer Partners,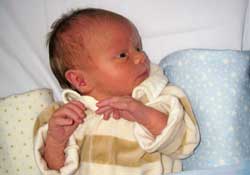 New Addition:
Praise the Lord for His wonderful hand in our lives that daily loadeth us with benefits (Ps. 68:19). We thank the Lord that Josiah Andrew Stover arrived safely into the world on September 6th. He was born at 7:06 a.m. weighing 6 pounds, 7.6 ounces and measuring 19.5 inches long. Mom and baby are doing well, and dad–well, he is just trying to do as much as he can to help (dirty diapers haven't been part of his job, yet). We are both adjusting well to life with a new baby, and we thank the Lord for our little "gift from heaven."
Travel:
We are looking forward to getting back on the road the third week in September. Please pray for us as we will be very busy traveling over the next couple of months. There will be adjustments to make as Josiah travels with us for the first time. We ask that you would pray with us that the Lord would help us to be a tremendous blessing and encouragement in the churches where we will be presenting our burden for the people of Perú.
Support Update:
We do give praise to the Lord for the churches that have partnered with us so far. At this point, we lack just 34% of the support needed to get to the field. We are thankful for 2 new churches that have taken us on this past month. Please consider and pray with us about the remaining funds needed to get to Perú.
Prayer Needs:
We are making plans to go to Perú in February of 2008. With the Lord's help, we have been able to save some money each month to go towards things such as: airfare, visas, language school, and set-up expenses. We ask that you would pray about these needs, and if you feel that the Lord would have you give something towards these things, please send it to:
Macedonia World Baptist Missions
Robert Stover Set-Up Fund
P.O. Box 519
Braselton, GA 30517
          Thank you for your prayers for these special needs.
E-mail Updates:
We are now starting to send out our prayer letters by e-mail. If you would like to receive your prayer letter in this way, please send us an e-mail to rstover22@yahoo.com. The e-mailed prayer letter will be in the same format as the one sent by mail.
Goal:
Our ultimate goal is to bring glory to the name of our Lord Jesus Christ. Our prayer is that we would encourage believers all over America to bring honor and glory to the Lord Jesus Christ by doing their part to get the Gospel around the world. Thank you for all you are doing to further His work; we could not get to Perú without your prayers and support.
Serving the Christ of the Second Coming,
Robert, Sara, and Josiah Stover