Dear Pastors and Praying Friends,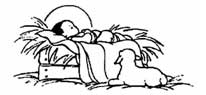 Luke 2:11 УFor unto you is born this day in the city of David a Savior, which is Christ the Lord.Ф   Thank the Lord for this joyous season when we can celebrate the birth of our dear Savior! The Bible says, УFor unto youЕФ The word, УyouФ addresses not only you and me, but also every other person who lives on this earth. I thank the Lord for the day when He became my personal Savior. It should be our prayer that people all across the world would be able to say, УHe is my Savior too.Ф What a comforting and convicting message this verse brings to us.
Deputation:
This has been a wonderful year of deputation for us. God kept us safe as we traveled more than 30,000 miles in 12 different states this year. The Lord has kept our car running fairly well, and we are so thankful for several Christian mechanics that the Lord has used to help keep us on the road. We had the opportunity to be in around 70 different churches this year sharing our burden to reach Perъvians with the gospel. We have seen our support nearly double in 2007, and we are excited about nearing the end of this time of deputation.
Momentous Events:
Sara completed her teaching degree from Crown College this past May. In August, I had the high honor of being ordained into the gospel ministry. Our son Josiah arrived September 6th. What a busy year this has been! We have seen God meet our needs in miraculous ways. He has added to us many new prayer and financial partners. It has been a blessing to see the hand of God at work in supplying both our spiritual and physical needs.
Future Plans:
We are greatly anticipating reaching Perъ soon. Our prayer is that we will be able to leave at the end of February. Upon arrival, we will attend language school as soon as possible and begin the work God has called us to do. Our support level stands at just over 75 %. We are praying that we might be at 85% by the beginning of 2008 and at 100% by our prospective departure date. Would you pray with us that our support would reach the needed level? Would you prayerfully consider what the Lord might have you to do in this matter?
Passage Fund:
A УPassage FundФ is a fund set aside to meet the expenses brought on from on international move. Airline tickets, rent deposits, utility deposits, language school, household items, visas, appliances, etc. There is no doubt that the funds needed to move overseas are great, but God is always faithful to supply. As I review our finances, it amazes me to think of all the times that He has provided for us. We have been setting aside money for this cause and are thankful for all that the Lord has provided so far. There is a passage fund account set up at Macedonia if you would like to have a part in meeting this need. We are so thankful for those who have given already.
We appreciate the Christmas cards and gifts that have been sent our way from many churches and individuals. What an encouragement to know there are so many thinking of and praying for us. From our family to yours, we pray you have a wonderful Christmas season!
Serving the Risen King,
Robert, Sara, and Josiah Stover