Dear Pastors and Praying Friends,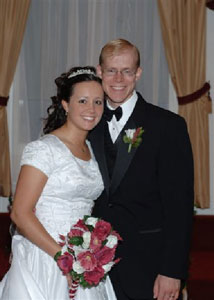 Greetings in the name of our Lord and Savior Jesus Christ! I am glad to report that we were happily married on June 23, 2006, at Tabernacle Baptist Church in Salisbury, NC (Proverbs 18:22). We are thankful that the Lord has brought us together and are excited about the ministry and work that He has called us to do together.
It has been exciting during these first couple of weeks to travel to churches together and to present the work that the Lord has called us to do in Perъ. Already we have met many people who have said they would be praying for us. We ask that you would pray for us as we continue on deputation and that we would be able to be on the field of Perъ by July of 2007.
On July 20th, we will be traveling to Perъ for our survey trip. During our time in Perъ, we hope to visit churches, see about living arrangements, and make other necessary preparations for when we will be there permanently. Please pray for our safety as we travel to Perъ on Thursday, July 20th and as we return from Perъ on Monday, July 31st. It will be my third time but SaraТs first time in the country. Our prayer for the trip is that God would rekindle even more greatly the fire in our hearts to reach these people with the Gospel of the Lord Jesus Christ.
Thank you to all those who faithfully support us both prayerfully and financially. We are pleased to report that the Lord has raised up 1/3 of our needed support. Please pray that the Lord would bring in the remaining 2/3 of our support by July of 2007. We are thankful also to report that the Lord supplied $1,020 for our prayer cards and letterhead. The final cost for these things was $1,013. IsnТt it wonderful to have a God who meets our exact needs!
The Bible states in James 1:6a, УBut let him ask in faith, nothing waveringЕФ We ask that you would pray with us faithfully for GodТs perfect will to be done. God is so good, and we are thankful to Him for the opportunity to serve in this capacity.
Your Servants for the Savior,
Robert and Sara Stover