Greetings in the name of our precious Lord and Savior Jesus Christ!  Psalm 27:13 states, "I had fainted, unless I had believed to see the goodness of the Lord…"  God is good all the time, yet how many times in our lives do we faint when difficulties come, because we forgot to believe?  Our belief in God's goodness during the difficult times can help give us the victory.
Proyecto Jesús: Discipleship Program
Romans 10:17 tells us "…faith cometh by hearing, and hearing by the Word of God."   As Christians, the Bible forms the base for everything we do.  It's important to know and understand basic Bible precepts.  In May, we began a new discipleship program on Sunday nights. We have divided into 2 groups (new converts and more mature believers).  I have had the opportunity to teach the new converts group, while Pastor Henry is teaching the second group.  Please pray that God would help our people to better learn and apply the Bible in their lives.
Church Picnic
At the end of May, we had a time of fellowship with 3 other churches in Tacna at a local park.  We have been meeting bi-weekly for several months with the pastors of these churches, to pray and encourage each other.  This was the first time we organized an activity together, and it was a big blessing.  We had singing, a Bible message, athletic competitions, and of course food.  There were around 100 people there.  We are thankful to be working in a team with these other churches to reach our city and beyond with the Gospel.  Please pray as we are making plans to begin a Bible Institute in August.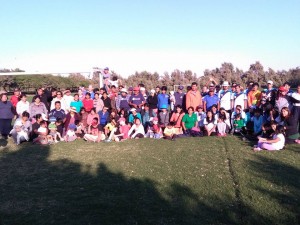 Missions Revival
June 24-26, we had our annual missions conference.  This year we had 3 different pastors preaching, 2 of which are our church's own supported missionaries.  We also had a group of 10 come from the church where we worked in Arequipa.  They helped in a special outreach on Saturday in the area where Pastor Willy's church is located, and several people made professions of faith.  There was a precious spirit in each service, and the messages were a real blessing.  The conference ended with a banquet and a time to make faith promise pledges. There was about $175 pledged monthly, which is $50 more than last year. Please pray that God would work in hearts as people sacrificially give to His work.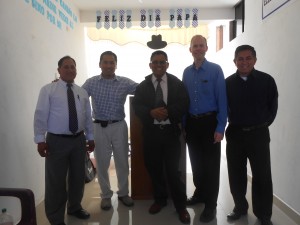 Getting ready to knock doors at Grace Baptist Church with our 2 missionaries (Pastor Percy and Pastor Willy), Pastor Henry, and Pastor Carlos who was visiting from Arequipa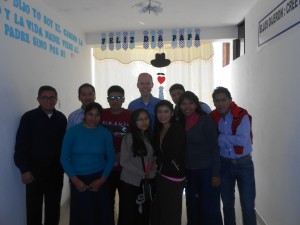 A great group of young people who came to minister during our Missions Conference from Miraflores Baptist Church in Arequipa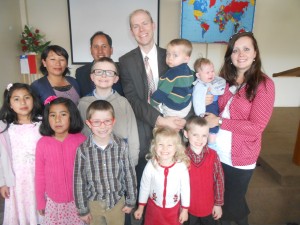 Our family with Missionary to Juliaca Percy Lopez and family
Salvation Decisions
This past Friday a man named Leoncio, invited to church by friends, accepted Christ.  I had the opportunity recently to lead a boy named Leo to Christ.  He is fruit of our bus ministry and Saturday Bible club.  We were thrilled to see our son Caleb, who is 7, recently accept the Lord as well. Please pray for their faithfulness and growth.  Please also keep praying for Lorenzo's salvation.
Furlough
We are less than 6 weeks away from our departure date of August 8th.  Please let me know if you would like to have us come by your church.  We still have some openings in November, December, and January.  Please be in prayer as we make final preparations.
♥♥♥♥♥♥♥♥♥♥♥♥♥
This past week Sara and I celebrated our 10th anniversary!  I am so thankful for the wonderful helpmeet that God has given me!
Thank you again for all your prayers and financial support.  We could not do what we do without your help!
Serving Him with gladness,
Robert, Sara, Josiah, Caleb, Joshua, Lydia, Zachary, and Elijah Stover