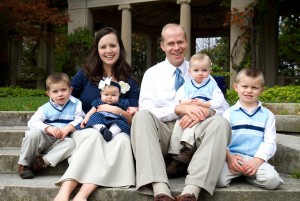 Thank you!
I want to thank you for your earnest prayers on our behalf during the time of my brother Gabriel's home-going.  It has been a time of great grief, but the "sweet peace that passeth all understanding" has made us realize just how real the presence of God can be in our lives.  I believe that when we get to Heaven, we will just begin to understand how powerful and necessary prayer really is.  James 5 :16b says, "The effectual fervent prayer of a righteous man availeth much."  The word, "much," is so key in this verse in that it implies a, "greater than normal" availing.  I'm so thankful for the much-availing prayers of God's people!
Great Travels
The Lord has given us great meetings and safe travels during the months of September and October.  Our journeys have taken us from Ohio, Michigan, Pennsylvania, and Virginia up into New England and the states of Connecticut, Rhode Island, and Vermont.  We have been able to be in a number of our supporting churches as well as some new churches.  There has been a great spirit in the services as we share our burden for Peru as well as what the Lord has taught us through the recent challenging times.
Baby Eden
Thank you for praying for Gabe's wife, Amy, and their new daughter Eden. Eden was born October 4th, healthy and strong, and we thank the Lord that she and Amy are doing well.
New Supporting Church
We thank the Lord for Faith Community Baptist Church in Downingtown, PA, who is our newest partner in ministry.  We have been praying that God would give us 10 new supporting churches during this furlough and this makes #6.
Family Update
Our son Josiah recently celebrated his 5th birthday.  He is enjoying kindergarten and learning to read.  Caleb is 3 1/2, and is quite the mischievous one.  Joshua will be 2 in November and is a very laid back little guy.  Lydia is 5 months old now and smiles and "talks" to everyone.  We pray that each of our children will make the decision to accept Christ as Savior and follow Him with their lives. We thank the Lord for each of them!
Prayer Requests:
Please pray for us as we make final preparations for our return to Peru in January.
Pray that God would give us wisdom regarding the exact ministry He would have us to work in upon our arrival in Arequipa.
Pray that we would be able to get a good price on our plane tickets.
Pray for our family to make a smooth transition back into life in Peru.
We are so excited about getting back to the place where God has called us!
Thank you for being so faithful in your prayers and support of our family! May the Lord bless you!
In Christ,
Robert, Sara, Josiah, Caleb, Joshua, & Lydia Stover