Thank you so much for your kindness and prayers for our family over the past weeks.  Psalm 118:24 states, "This is the day which the Lord hath made; we will rejoice and be glad in it." Every day is distinct and yet the same in that it is a gift from God.  The circumstances and situations may change, but may the Lord help us rejoice in Him and be glad in each day He gives us!
Evangelism Conference
We appreciate your prayers for the Resurrection Week meetings we had.  The Lord blessed with close to 20 first-time visitors in attendance.  Each one heard a clear presentation of the Gospel.  Please pray with us that the Lord would even now continue to work in people's hearts and convict them of their need of a Savior.
Children and Teenagers singing special music during the conference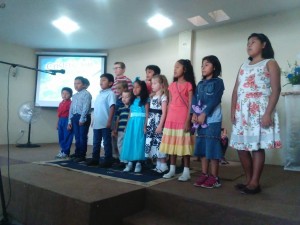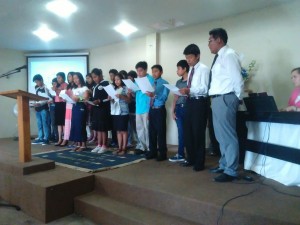 Salvation Decisions
Sara was able to speak with a lady who has come to our church for awhile about her salvation.  At the end of the conversation, the lady bowed her head and received Christ as her Savior. 
I also praise the Lord that several weeks ago during a Sunday morning invitation, I was able to share the plan of salvation with a 13-year-old young man named Christian.  He has been coming to church on one of our bus routes for about 3 months.  Praise the Lord that he also chose to put his faith and trust in Jesus as his Lord and Savior!  The following Sunday, he came up and gave me a big hug and thanked me for having shared the plan of salvation with him.  What a blessing to serve the Lord!
Prayer Requests
Please pray for one of our most faithful young people, Michelle.  She was recently diagnosed with a cyst in her mouth (chin bone area) and will be traveling to Lima to see a specialist on April 28.  The plan of action is a biopsy and probably removal and reconstructive surgery.  We are thankful to see God working in her life and providing through her university health insurance and other fundraisers to help toward costs.  Please pray for her and her family during this time, especially for the salvation of her parents.
Please also pray for Sara and the baby who is due to arrive around May 23.  We are thankful for a healthy pregnancy, and appreciate your prayers for a safe delivery and recovery time.
I appreciate your prayers for me as I travel to Iquique, Chile, at the end of April to visit missionaries Curtis and Debra Couch and preach in their missions conference.  Please pray for safety in travel and that the Lord would fill and use me there.
Your kind prayers and giving are a continued blessing to our family.
In Christ,
Robert, Sara, Josiah, Caleb, Joshua, Lydia, Zachary, and Elijah Stover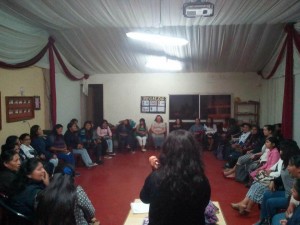 Team Ladies Meeting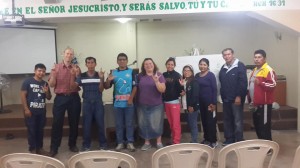 Deaf Bible Study